Australian Stonefruit Farms
Our premium stonefruit is grown on 750 hectares of farmland in one of Australia's largest stonefruit growing regions, in north-western Victoria. The area's unique growing conditions combining high winter chill with sunshine for much of the year, produces juicy and flavoursome stonefruit.
Located in the area known as Murray Basin food bowl, our farms are in a region that produces one of the largest amount of fresh stonefruit, pistachios and table grapes in Australia. Fertile soils and a favourable climate helps us grow high-quality, disease-free and tasty produce.
Hand Picked Fruit
Stonefruit on the farm is carefully handpicked by orchard workers to reduce likelihood of damage. A seasonal workforce of up to 150 people ensures that each variety can be picked at its peak. Fruits including nectarines, peaches, plums and apricots are hand-picked in our orchards and delivered immediately to our onsite packing facility. Our investment in superior packing facilities right next to our orchards and control of logistics, means that our stonefruit gets to market faster. This maintains freshness and taste all the way to our international markets.
Premium Packing Facility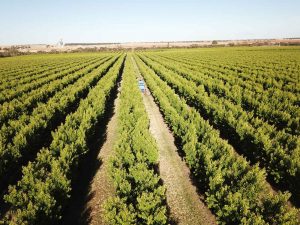 Our premium packing facility is where stonefruit is prepared for market. The 10,000 square metre state-of-the-art packing, storage and distribution centre is located next to stonefruit orchards. Its proximity to the fields streamlines the start of the cold-chain process. This helps our fruit reach local and export markets in top condition.
At the facility, our stonefruit is checked for maturity and quality, and inferior fruits are removed. It is then washed and hydro-cooled to enhance shelf life. Finally, it's sorted using computerised grading machines and packed in our range of packaging options. We use technology including computerised grading machines and undertake inspections throughout the packing process to reject inferior fruit. This ensures only premium quality fruit is sent to our customers.